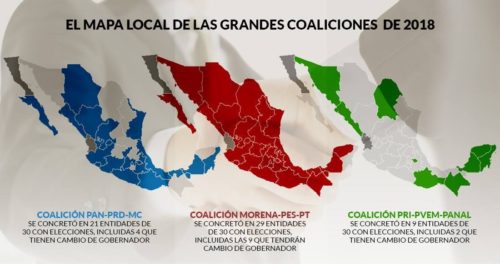 Javier Bravo
Guanajuato, México
As internationalists, we've been following the efforts in neighboring countries to resist the influence neoliberalism and U.S.-imperialism. Many friends in Mexico are deeply involved in the campaign of Andres Manuel Lopez Obrador (AMLO) for president and have sent us this piece about its significance.
Como internacionalistas, hemos estado siguiendo los esfuerzos en los países vecinos para resistir la influencia del neoliberalismo y el imperialismo de Estados Unidos. Amig@s en México están profundamente involucrad@s en la campaña de Andrés Manuel López Obrador (AMLO) para presidente y nos han enviado este artículo sobre su significado.
About the Author:
Since 1997 Javier Martínez Bravo has been full-time professor in the Department of History at the University of Guanajuato in Guanajuato, México. He received his degree from Voronezh State University in the Russian Federation where he studied from 1990-96. Now 52, Javier is a well-known militant with México's only left party, MORENA — Movimiento Regeneración Nacional (National Regeneration Movement). His wife, Claudia Arteaga, is an architect who for years oversaw the restoration of pre-Columbian archaeological sites in the state of Guanajuato. They have a nine-year-old son, Santiago.
Sobre el Autor:
Desde 1997 Javier Martínez Bravo ha sido profesor a tiempo completo en el Departamento de Historia de la Universidad de Guanajuato en Guanajuato, México. Recibió su título de la Universidad Estatal de Voronezh en la Federación Rusa, donde estudió entre 1990 y 1996. Ahora con 52 años, Javier es un conocido militante del único partido de izquierda de México, MORENA – Movimiento Regeneración Nacional. Su esposa, Claudia Arteaga, es una arquitecta que ha supervisado durante años la restauración de sitios arqueológicos precolombinos en el estado de Guanajuato. Tienen un hijo de nueve años, Santiago.