By Bill Gallegos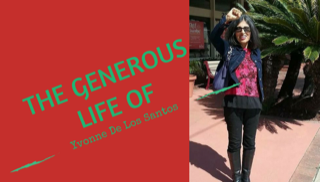 What can you say about Yvonne? She was tough as hell. She was private as the darkest night. She was independent beyond belief. She was amazingly generous. She was a survivor. She was a warrior.
Yvonne was all of these things and more. She survived the killing fields of California Agribusiness – a heartless business that regularly sprayed its workers and their families with poison. Sending their bright colored planes over the fields with children like Yvonne running outside in excitement to chase under the deadly clouds that sprayed on the fields below.
Yvonne survived the racist schools that saw the Chican@ children of farm workers as having no future other than as field hands. Yvonne was without a doubt one of the smartest people I have ever known, but suffered all of her life from the self-consciousness about her writing skills, skills that any decent education system should have given her.
Yvonne survived alcoholism, a disease that has destroyed millions of lives of our people and of others. Yet, like many others of our gente, she survived and overcame that illness and was proud to be a participant in AA, and to share with those in her groups her bitter own difficult experience and her deep reservoir of love.
Yvonne survived poverty and even a brief period of homelessness, and emerged to continue the struggle, including helping to organize a tenants' strike at the place where she lived in Lincoln Heights. Of course, Yvonne and the tenants won their struggle, even though Yvonne confided to me that she almost hated to kick the dueno's butt because he was from a Chican@ working class family himself. Ay, Yvonne!
Yvonne was born a liberation fighter.
Literally. Believe-it-or-not, Yvonne was born on Cinco de Mayo in 1947, I think in the little agricultural community of Oxnard or Chiquez. She came into the light on the anniversary of the Battle of Puebla, when in 1862 the Mexican Army defeated the French army, at that time the strongest military power in Europe. What could be a more appropriate birthday for our revolutionary Chicana sister than a Mexican anti-colonial holiday that was taken up by the Chican@ Movement in the Southwest as a celebration of our own struggle for freedom and self-determination. Of course, Yvonne being Yvonne, she never let any of us know about her birthday, much less celebrate it with her. But you can be sure of one thing — next Cinco de Mayo all of us who knew Yvonne will celebrate that day with a much deeper sense of love and appreciation.
I first met Yvonne in 1974, when a bunch of pretty raggedy Chicanos and Chicanas formed the August 29th Movement (Marxist-Leninist), the first revolutionary socialist organization to emerge from the Chican@ Liberation Struggle. The little town of Oxnard produced a whole district of ATM members including Yvonne, Connie Valdez, Beto Flores, and Jenaro Valdez.
My memory is a little dim, but I seem to remember Yvonne always decked out in her army jacket, the style for many of us who had been in the Brown Berets, a group that Yvonne deeply admired and that I had the honor to be a part of. One thing that I remember clearly though is how Yvonne did double-duty at every picket line, march, and demonstration that were held to support the Chicana Farah Strikers from El Paso, the United Farm Worker strikes and the grade and lettuce boycotts, and the wildcat strikes that ATM led and WON like the one at Major Safe in East LA.
I remember Yvonne really cracked me up at one of the actions we had at a Safeway store to support the UFW grape boycott. Some redneck took Yvonne's leaflet that explained about the farm worker struggle and why people should stop buying scab grapes. Even though Yvonne had been disciplined and respectful to all of the shoppers, this guy grabbed the leaflet from her hands and crumpled it up and made some nasty comment. This fool evidently thought Yvonne was some kind of peace-and-love hippie that he could intimidate. When I looked up at Yvonne she had picked up that wadded up flyer and bounced it off the back of his head, accompanied by poetic encouragement to place it carefully where the sun does not shine. That was one of my first memories of Yvonne – this was a sister that you did not mess with.
Later, I worked with Yvonne as part of a wonderful community organization in East Los Angeles called El Comite de La Raza. We were a genuine community organization – all volunteers. Any money we had did not come from foundations, but from our own pockets and the colectas we took at our mass events. We called our organization CDR and took on a ton of issues like police brutality, support for the farm workers, immigrants rights, and strike support. Yvonne was always our most active member, handing out leaflets in Lincoln Park, going door-to-door in Lincoln Heights and City Terrace to collect money and food donations for the UFW, helping to organize an annual celebration of the 1970 Chicano Moratorium Against the War. Yvonne was always the first to arrive at any event and the last to leave. And she consistently refused to accept any title of leadership, although her example demonstrated what a real revolutionary leader should be – one consistently motivated by a deep love for the people.
Yvonne later worked for ACORN, helping to organize Black and Brown working class people in South LA for their right to decent and really affordable housing. She worked as a union organizer for many years with SEIU, organizing private sector home health care providers – nearly all of whom are Latina or Pilipina women and one of the most exploited and oppressed sectors of the working class. Yvonne was there every day, sometimes 12-13 hours a day, sometimes in LA, sometimes in the Central Valley, sometimes in the Inland Empire – wherever she was needed. It is one of the great injustices that Yvonne was never, in her lifetime, given the respect that she was due from SEIU or from the labor movement. But we who knew her will never let that happen, she was a working class Sheroe and her example will always inspire us.
More than anything Yvonne believed in and always was a warrior for Chican@ Liberation. Until her dying day she fought for our rights to Tierra Y Libertad, firm in the belief that we are a people with deep indigenous roots, with roots deep in the lands of Aztlan, and that someday we would win back our land, and govern ourselves as a free and sovereign nation.
There is no doubt it my mind that Yvonne lived the words and the vision from El Plan Espiritual de Aztlan:
"With our heart in our hands and our hands in the soil, we declare the independence of our mestizo nation. We are a bronze people with a bronze culture. Before the world, before all of North America, before all our brothers in the bronze continent, we are a nation, we are a union of free pueblos, we are Aztlan…."
Yvonne took these beliefs and her commitment into the League of Revolutionary Struggle in 1978, and later into the Liberation Road. She was dedicated to the vision that to achieve Chican@ self-determination we must have a society that is based on people's needs and not on corporate profits, a socialist society that would resonate with hundreds of languages and cultures, each free and equal, a society where our Indigenous sisters and brothers would enjoy true land rights and sovereignty, where we Chican@ would have our national rights, where African Americans would have the land and reparations to which they are entitled, where women would enjoy genuine equality and liberation. In other words, a society where all oppression and white and male privilege is ended. A world where our relationships are based on genuine equality and not exploitation, and where we once again embrace our close and living connection with Mother Earth.
Yvonne was truly a 21st Century Socialist, the kind of unsung leader who represented what is best in us – compassion, courage, kindness, and a love that truly transcends death. For giving us this, for showing us this example Yvonne, we will always love you, keep you in our hearts, and strive to walk in your footsteps.
Yvonne De Los Santos – ¡PRESENTE!